Halloween is not very popular yet in the Baltics, so trick-or treating is only starting to become an event here. But we still can enjoy scary movies, make pumpkin torches, and everything else.
When I bought a pumpkin yesterday, it looked so small, but when I dragged it home from the city center, I actually found out it was really heavy...
Too bad there's nothing good on TV until tomorrow.. I wonder if Cartoon Network still aires "Grim adventures of Billy and Mandy", if they do, I'm probably gonna watch it.xD
Here we also have "The Day of the Dead" tomorrow. I'll better stick with the fun-and-creepy mood of Halloween, at least 'till midnight, and then I'll remember the deadmans that I knew and I didn't.=P Such days always make you think about countless sad/bad things, like missing someone. but you don't have to do it. After all, we'll all die.=P
Oh yeah, I should get those pancakes and that pumpkin monster going.
Now, for the point of this blog:

Happy Halloween everyone!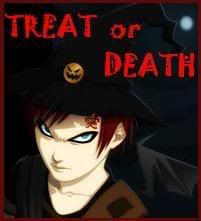 Treat me with Gaaraporn
.