Watashitachi no Kyoukasho
Our Textbook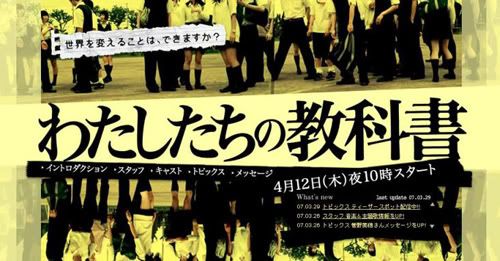 Drama Wiki said:

Tamako, an elite lawyer with a promising future, works for a reputable law firm. She is recently given an opportunity to take a case involving a young child who has been bullied at a local elementary school. Fully aware of the difficulties uncovering the truth in cases involving schools, Tamako is reluctant to proceed with her new client. Tamako is romantically involved with one of her colleagues, Naoyuki, and is hoping to further develop their relationship. However, Tamako's seemingly happy life comes to a sudden halt when she learns the news of an accident involving a young female high school student named Asuka. Asuka had apparently fallen from a classroom window on campus and suffered serious injuries. Tamako takes a strong interest in Asuka's case and immediately launches her own private investigation.
Genre:
Mystery, School, Legal Drama
Episodes:
12
Episode List:
Drama Wiki said:

EP 01: Unkind Treatment and Judgment
EP 02: Collapsed School
EP 03: The Female Teacher and Her Secret Face
EP 04: Strange Incident at the Schoolyard
EP 05: Bullying in the Staff Room!
EP 06: The Feeling of Love
EP 07: The First Order is Complete! The Lawsuit
EP 08: The Second Order! Showdown in the Courtroom
EP 09: The Big Witness Turnaround
EP 10: The Boy's Stance in the Courtroom
EP 11: Severe Earthquake! The Last Witness
EP 12: The Last Impression!! To Tomorrow's Choice
Source:
http://wiki.d-addicts.com/Watashitachi_no_Kyokasho
It's a Mystery Show!
To all the detectives out there, this is almost an instant interest. And to all those simple drama-watching people, this also has a good number of teary moments.
It has the usual analytical deduction show, and ofcourse, courtroom bashing!